The Spa
Transport yourself to a realm of pure relaxation and tranquility at our all new The Danna Spa this holiday season. With a curated selection of signature treatments and exclusive offers, our sanctuary of serenity invites you to unwind and rejuvenate. Immerse your senses in a holistic sensory journey that blends soothing scents, gentle sounds, and expert touch, guiding you to a state of sweet and peaceful bliss. Escape the holiday hustle and rediscover harmony within yourself as our skilled therapists craft an experience that leaves you feeling refreshed and revitalized. Whether as a personal retreat or a thoughtful gift, The Danna Spa promises an oasis of calm amidst the festive excitement.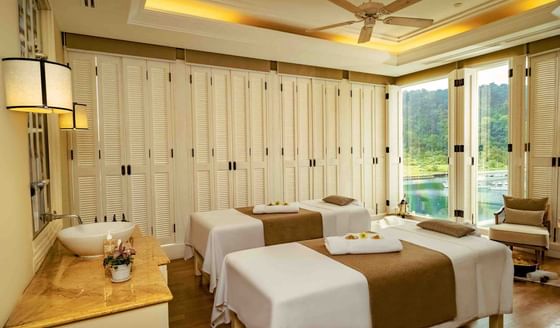 The Danna 13th Anniversary
4 to 10 December 2023
In celebration of The Danna Langkawi 's 13th Anniversary, The Spa offers a special deal of one price RM 712 net for 2 persons for 60 minutes Full Body Massage. Spend of RM 800 and above get 20% discount for retail items.
Christmas & New Years Package
23 December 2023 to 3 January 2024
Spa Package | 90 min | RM 470
Full Body massage 60 min Express manicure or Express Pedicure 30 min.
Spa Gift Card | RM 690 For 2 hours treatments (selected treatment) invalid 3 months.
Christmas Gift Products Package RM 560